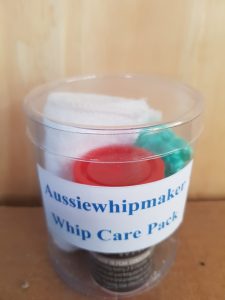 Whip Care Pack
The pack contains our own formula special whip wax (leather conditioner). Three crackers/poppers, and a cotton cloth for application of whip wax. *Postage for Whip Care Pack will be free of charge when Whip Care Pack is purchased with any whip.
$ 29.40
Buy
Whip Care
Getting the most life out of your fine hand crafted whip can be as easy as not leaving it exposed to the elements. With good care your whip should last longer, a life time – it can become a family heirloom.
When you have finished playing or working with your whip, wipe it all over with a light coat of leather dressing. use more on the fall because this is the part of your whip which works the hardest, and like your popper/cracker will eventually wear out so the more care you give it the longer it will last. Don't become too concerned when your popper/cracker wears out, that's what it is supposed to do, it's not a big deal and is easily replaced. Use the best quality leather dressing, you can find. DO NOT use neatsfoot oil. Take care when cracking your whip, make sure there is no one near you.
These whips are not toys and can cause considerable pain, cut flesh and break bones. When a whip cracks the tip is travelling at over 1400 feet per second. Faster than the speed of sound and in some cases faster than a speeding bullet. The bang produced by a whip when it cracks is actually the end of the whip breaking the sound barrier. The bang is a mini sonic boom. Should your whip hit anything or anyone when it cracks it is quite capable of cutting flesh and breaking bones. Do be careful!
Getting the most life out of your fine hand crafted whip
can be as easy as…
Not leaving it exposed to the elements. Moisture, sand, grit and dirt can all affect a whip's longevity, so where possible keep your whip clean and dry.
Keeping the whip well greased with leather dressing, especially after using in rain or inclement weather.
Not cracking whips on hard surfaces, such as gravel roads, concrete etc.
Always keeping a cracker on your whips.