Aussiewhipmaker Whips are hand made custom built to suit you your body size and specified usage on Macleay Island, which is situated in Moreton Bay Queensland Australia, not far from where Joseph Nemeth soldier saddler whip maker first arrived in Australia in 1846.
---
Today 169 years later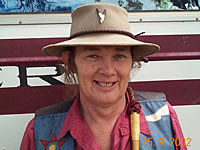 I Gayle Nemeth, 5th generation whip maker proudly carrying on the family tradition supplying world class Stock Whips and Bull Whips to the men and women around the world who use whips to take to work each day or for hobby, competition and entertainers . Aussie Whip Maker is located on Macleay Island, which is in Moreton Bay, Australia not far from where it all began.169 years ago.
All our whips are fully guaranteed (leather and workmanship).
Our whips are manufactured in Red Hide and Kangaroo Hide. You will find the whips fall straight and true and are very tightly plaited with even tension on each strand.
Being very aware of what is available in the marketplace, I have no hesitation in saying our whips are the best quality available and provide excellent value for money.
We have thousands of happy satisfied customers and I know that you too will be satisfied with our quality whips and personal  service. When ordering generally allow 3 weeks from placement of order to delivery. Payment can be made by Pay Pal, direct deposit  or by Visa or MasterCard. Please see the secure order page to place your order.
---
Just fax or phone in your order or fill in our online form to email us.
You can even use our secure online shop!… see our price list page.
Any questions?
We look forward to hearing from you!
Gayle Nemeth
For further particulars please see our Contact Page